It's time for another S'more Swap with some of my bloggy friends!
Today I am linking up with Samantha aka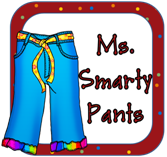 My little lovies are in dire need of writing skills since I have THE.LOWEST.GROUP!!!
Samantha's adorable unit was just what I needed to teach (again) about opinion writing.
Here is preview of everything that is included.
I began by posting the title and we had a little discussion.
Then all students wrote their name on a sticky note and put their name next to their favorite pet.
This was the first page each student filled out.
A vote for dogs...
The ONLY vote for fish...
A vote for cats...
Next, we did this step together as I discussed MY favorite pet...CATS!
Then we discussed how this led to writing the PERFECT five sentence paragraph.
Students then turned theirs into a nice neat paragraph.
If you would like win your own copy of this adorable writing activity, please hop on over to Samantha's
Blog
, become a follower and leave a comment. I have a number already chosen. If your comment is that number, you will win this unit. Leave a comment by Thursday!
You can also click on the picture of the unit, to purchase your own copy.
Click below to find some more great product reviews!