Hi Everyone!
I'm linking up with my very favorite blog author...Amy Lemons over at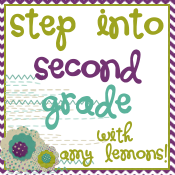 .
I have been blogging since January. Amy was the first blog that I became a follower of and answered LOTS of questions for me. I cringe now when I think what I pest I must have been! :~
It's time to learn more about me.
1) I am still SOOOOO NOT comfortable with blogging. I am trying!!! I love it and enjoy, but it's so hard to know what to blog about!!! I am having to FORCE myself to remember to take pictures. I'm just not much of a picture taker! haha
2) I have played the piano for 42 years since I was 6 years old. (You do the math!) My favorite type of music to play is spiritual. I play the piano at my church every service.
3) I have 2 daughters. Megan had a beautiful beach wedding almost 2 years ago. She is beginning her 2nd year of teaching 4th grade. Here she is with our son-in-law, B.J.
Camille currently works at the county library, attends college, and is planning her wedding in January to Chad.
4) This past April, I celebrated 26 years of marriage to the love of my life, Ronnie.
5) My very favorite things to do include: spending time with my family (OF COURSE!), reading (absolutely love and you will find that I ALWAYS have a book I am reading!), and camping.
We have traveled extensively while camping. This is our favorite kind of travel. I LOVE having my own "stuff!" We have been to the Florida Keys, several beaches, Louisiana, Arkansas, New England states and even to Prince Edward Island and Grand Manan Island. We have camped for many, many years.
6) I am a cat lover. We even take my cat, Sheba, camping with us. She loves lying on the entertainment center looking out!
6) We recently purchased my family's "fishing place" in Florida and have spent quite a bit of time down there this year.
7) I have Lupus and cannot be out in the heat of the day. I guess it's a good thing I enjoy doing indoor things! Most of the time, things go really well and as long as I take care of myself, I don't have flare ups.
8) I love learning (which is probably true for ALL teachers). One reason I began blogging and doing TPT is because I like to challenge myself and continue learning. I got my last degree 12 years ago, when I got my 6 year degree as an Educational Specialist in administration. However, I've never had the desire to leave the classroom. I absolutely LOVE what I do and can't imagine my life without teaching the precious, darling children. I think joining the blogging world has rejuvenated my teaching and I can't WAIT to get back in the classroom this year!!!!
Now you know more about me. I look forward to learning more about YOU!
Link up over at Amy's blog by clicking on the link below.